SinoMG,Taipei
Sino MG Technology Co., Ltd.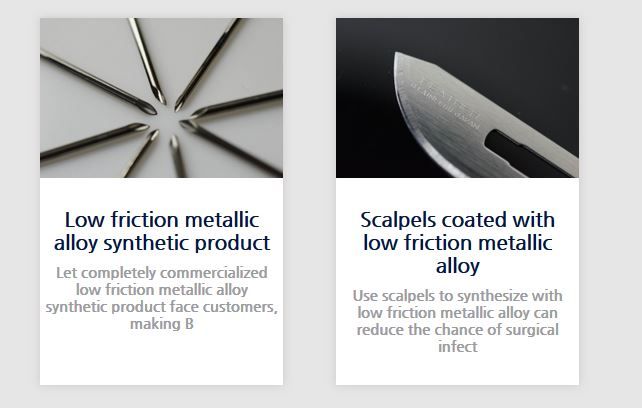 Our company established in 2018 is an enterprise associated with Taizhan Group.
Application of low-friction metallic coating produced by HiVac plasma technology is our main business in order to provide high-quality industrial technical services and products to our customers. Currently, the main products are medical devices, metal molds, drills, and more. The main feature of our metallic coating is that it can decrease the friction effectively and increase the durability of devices/components. These characteristics thus provide added-values to our customers' products.

Sino MG team has many well-known and knowledgeable experts in various fields. We have accomplished great results in processing low-friction metallic coating by HiVac plasma including the application of nanotechnology, amorphous materials and HiVac plasma synthesis technology and so on. Also, these technologies have received supports at home and abroad and won various awards.

Low-friction metallic coating is the mainstream trend in the future, and its application range is extremely wide. Based on the current medical devices industry, our company continues to develop functional products effectively. Hopefully, one day we can take a lead in the medical industry.
Contact Window:
Leo Lin
TEL: 02-2796-6262
FAX: 02-2796-8260
mail: leo8812422@hotmail.com
Address: 11484 3F, NO.6, Ln.175, Anmie St., Neihu Dist., Taipei, Taiwan